The Wild West, also known as the American Frontier, was the period of American history between the 1870s and 1900s, characterized by the settling and development of the western territories of the United States. This period of American history was marked by westward expansion, the growth of cowboys and cattle drives, the rise of mining towns, and the displacement of Native American populations.
The Wild West began after the Civil War when the government started encouraging westward expansion through the Homestead Act of 1862. This act offered free land to anyone settling and developing it, which led to a large influx of settlers moving west. Many of these settlers were farmers and ranchers who established large farms and ranches, while others were miners who set up mining towns in search of gold and other valuable minerals.
The cowboy culture emerged during this time, as ranchers hired cowboys to drive cattle to market. Cowboys were a rugged and hardy group of men skilled in horseback riding, roping, and shooting. They were also known for their distinctive dress style, which included wide-brimmed hats, boots, and bandannas.
The Wild West was also a conflict between settlers and Native American populations. The government's policy of westward expansion led to the displacement of many Native American tribes, who were forced to move to reservations. This often led to violent conflicts, such as the Battle of Little Bighorn and the Wounded Knee Massacre. Many towns and settlements were situated in remote areas, with little or no access to basic necessities such as food, water, and medical care. Additionally, the harsh weather and rugged terrain made life difficult for the pioneers who ventured into this vast, uncharted territory. One of the most significant issues facing the people of the Wild West was the constant threat of violence and crime. Outlaws, bandits, and other criminal elements preyed on settlers, stealing their possessions and sometimes taking lives. The lack of organized law enforcement meant that vigilantes or the U.S. military often meted out justice.
Local sheriffs and marshals often provided law enforcement in the Wild West, but there were also famous lawmen like Wyatt Earp, Wild Bill Hickok, and Billy the Kid. The Wild West was known for its outlaws and bandits, such as Jesse James, Butch Cassidy, and the Sundance Kid. Despite the harsh living conditions and the threat of violence, many people were drawn to the Wild West by the promise of adventure and the chance to start a new life. The period was also marked by the building of the transcontinental railroad, which connected the East and West coasts and made it easier for people to travel and settle in the West.
The Wild West era ended in the early 1900s, as the western territories became more settled and the government began to enforce laws and regulations. The cowboy culture also began to fade away as the cattle industry shifted to large-scale operations and the use of trains to transport cattle.
The Wild West era holds a certain romance and mystique in American culture and history, with stories, movies and TV shows that depict the life and times of the cowboys, outlaws, and settlers who lived during this time.
#1

Cowboys and bar girls whoop it up in a still from an old silent Western.
#2

Atsina men on a hill with their horses, 1908
#3

Pawnee Tipi, or tepee. The Pawnee Nation are native to present day Nebraska and Northern Kansas. Tipis were only used when travelling, as an alternative to the usual earth villages, 1907
#4

Dakota man, wearing war bonnet, sitting on horseback, his left hand outstretched toward tipi in background, others on horseback, 1970
#5

Several Dakota men on horseback riding in a circle around a tipi, 1907
#6

Dakota Indians on horseback on plains, 1907
#7

Two daughters of a chief on horseback, riding away from camera toward tents in background, 1907
#8

A snapshot photograph of a group of mounted Native Americans, taken by an unknown photographer in about 1905.
#9

Crow men on horseback apparently involved in an exchange, 1905
#10

Men and pack animals gathered outside Jicarilla tipi., 1905
#11

Three Cheyenne warriors on horseback., 1905
#12

Upshaw, Which Way, and unidentified Indian on horseback, 1905
#13

Packs The Hat and Which Way, two Crow Indians on horseback, Montana, 1905
#14

Three Navajo Indians on horseback make their way over hilly terrain, 1905
#15

Rear view of Navajo Indians on horseback making their way over the sparse, dry, grassy floor of Tesacod Canyon, 1905
#16

Hopi adults gather outside doorway, children on roof, dogs and horse in foreground, 1905
#17

Three Sioux Indians on horseback facing front by pond on plains, 1905
#18

Two native American men mounted on horses, gazing off into the distance, 1904
#19

Three Navajos with horses, gathered before mound of rocks and vegetation, 1904
#20

Three Apaches, one with a child, with horses laden with water jugs, a colt, and a dog stopped beside a stream, 1903
#21

William S Hart interpreting a cowboy at the Roulette table.
#22

Trick Shooting. Annie Oakley, champion trick shot of grandpa's day.
#23

A group of cooks who travel with the Pawnee Bill Wild West Show display their wares for a photographer around 1900 during a tour of France, 1900
#24

Six tribal leaders (l to r) Little Plume (Piegan), Buckskin Charley (Ute), Geronimo (Chiricahua Apache), Quanah Parker (Comanche), Hollow Horn Bear, 1900
#25

Three Piegan men on horseback in open grassland near pond, 1900
#26

Army Cadets Lift Large Artillery Piece from a Horse as part of their training under the watchful eye of mounted Instructors, 1900
#27

Wild West Polo Played by Cowboys on Horses at Coney Island, 1900
#28

Horses, carriages, and pedestrians are seen as one looks West along the shops which line unpaved Flagler Street, Miami, Florida, circa 1900.
#29

William 'Buffalo Bill' Cody (1846 – 1917) American entertainer, sitting on horseback and holding a rifle, looks off into the distance as British and American flags fly around him. Tents for his Wild West show are in the background.
#30

Target shooter Annie Oakley, star of Buffalo Bill's Wild West show, is shown holding a rifle.
#31

Calamity Jane, born Martha Jane Canary, photographed in 1895. She was an American frontierswoman and professional scout, a native American fighter, prostitute and possibly the wife of Wild Bill Hickok, also appearing in Buffalo Bill's Wild West Show, 1895
#32

A photograph shows three Native American men riding horses during Buffalo Bill's Wild West Show, United States, late 19th century. They race down a road in a rural town.
#33

Buck Taylor, self-styled 'King of the Cowboys', wearing his Wild West showman's clothing
#34

A view of Ellis Island in New York Bay, run by the US Immigration Service. Between 1892 and 1954 over 20 million immigrants to the USA passed through it on their way to a new life.
#35

A photograph of North Pond, looking westward at the World's Columbian Exposition in Chicago, Illinois, 1893.
#36

Street scene in Guthrie, Oklahoma, USA, circa April 1893.
#37

Gordon W. Lillie, aka Pawnee Bill, "Buffalo" Bill Cody, and Charles Jones, aka "Buffalo Jones", sit for a portrait.
#38

Annie Oakley in a Wild-West-Schau – she shoots with the help of a pocket mirror – undated.
#39

Judge Isaac C Parker, the 'Hanging Judge', in his later years, 1890s
#40

Three Iowa Native Americans pose in a studio with all their finest accouterments for a photo.
#41

Wagons on the prairie, late 19th century: 'Round up wagons, climbing a hill, the pilot in front.
#42

Cowboy on a horse, looking towards the camera, United States, 1890.
#43

Roping and changing scene at Camp on round up on Cheyenne River, United States, circa 1890: Rear view of three cowboys roping a herd of horses.
#44

Mess scene on "round up", United States, 1890: Cowboys eating near chuck wagon; small groups of horses and cattle in campsite.
#45

Tallyho Coaching. Sioux City party Coaching at the Great Hot Springs of Dakota, United States, 1890: Horse-drawn stagecoach carrying formally dressed women, children, and men.
#46

The last Deadwood Coach, United States, circa 1890: Last trip of the famous Deadwood Coach.
#47

Deadwood Coach, United States, circa 1890.
#48

Hot Springs Bath House, United States, circa 1890: Exterior view of largest plunge bath house in U.S. on F.E. and M.V. Railway; Large building with several horses and carriages in front.
#49

Deadwood Street Parade, United States, circa 1890.
#50

Publicity portrait of Annie Oakley & Texas Bill, late 1800s: American sharpshooter Annie Oakley (1860 – 1926) poses with one knee on a haybale and a shotgun on her hand, while Texas Bill Shufflebottom sits on a haybale with a lasso over his knee. The photograph was used to advertise her performances with Buffalo Bill's Wild West Show.
#51

A young cowboy, circa 1890: A young member of Buffalo Bill's Wild West Show.
#52

Selling the Wild West, circa 1890: Male employees gathered around a wagon that serves as the ticket office for the Buffalo Bill's Wild West show.
#53

Philadelphia Street, circa 1890: Chestnut Street in Philadelphia, Pennsylvania which runs west from the Delaware River to the western limit of the town and is named after a tree growing in the state.
#54

Miss Hickok, Champion Equestrienne of the World, 1889: Emma Lake, the daughter of Agnes Thatcher Lake who married Wild Bill Hickok, the famed gunfighter and lawman of the American Old West, part of 'Buffalo Bill Cody's Wild West'
#55

Old West Deadwood Stagecoach by John CH Grabill, 1899
#56

Omaha Board of Trade in Mountains near Deadwood, United States, April 26, 1889
#57

Railroad Camp, United States: Railroad workers entertain visitors during happy hour at a railroad camp alongside a construction route in South Dakota.
#58

Blackfoot Brave, Montana, 1887: A young Native American warrior of the Blackfoot tribe stands in traditional clothing with a rifle in the entryway to his teepee home.
#59

Blackfoot Camp, Blackfeet Indian Reservation, Montana, 1887: A group of horses graze in the foreground as a Blackfoot Indian encampment spreads into the background behind them. Text reads 'Indian Camp, Blackfoot Reserve.'
#60

Annie Oakley, 1887: American sharpshooter and rodeo star Annie Oakley (1860 – 1926)
#63

Portrait of Cowboy Buck Taylor, "King of the Cowboys." First cowboy to join the Cody & Carver Wild West Show, in May 1883.
#64

Buffalo Bill Cody's Wild West Troupe, USA: Cody's Original Wild West Show.
#65

Pat Garrett, James Brent and John W Poe, sheriffs of Lincoln County, 1880-1882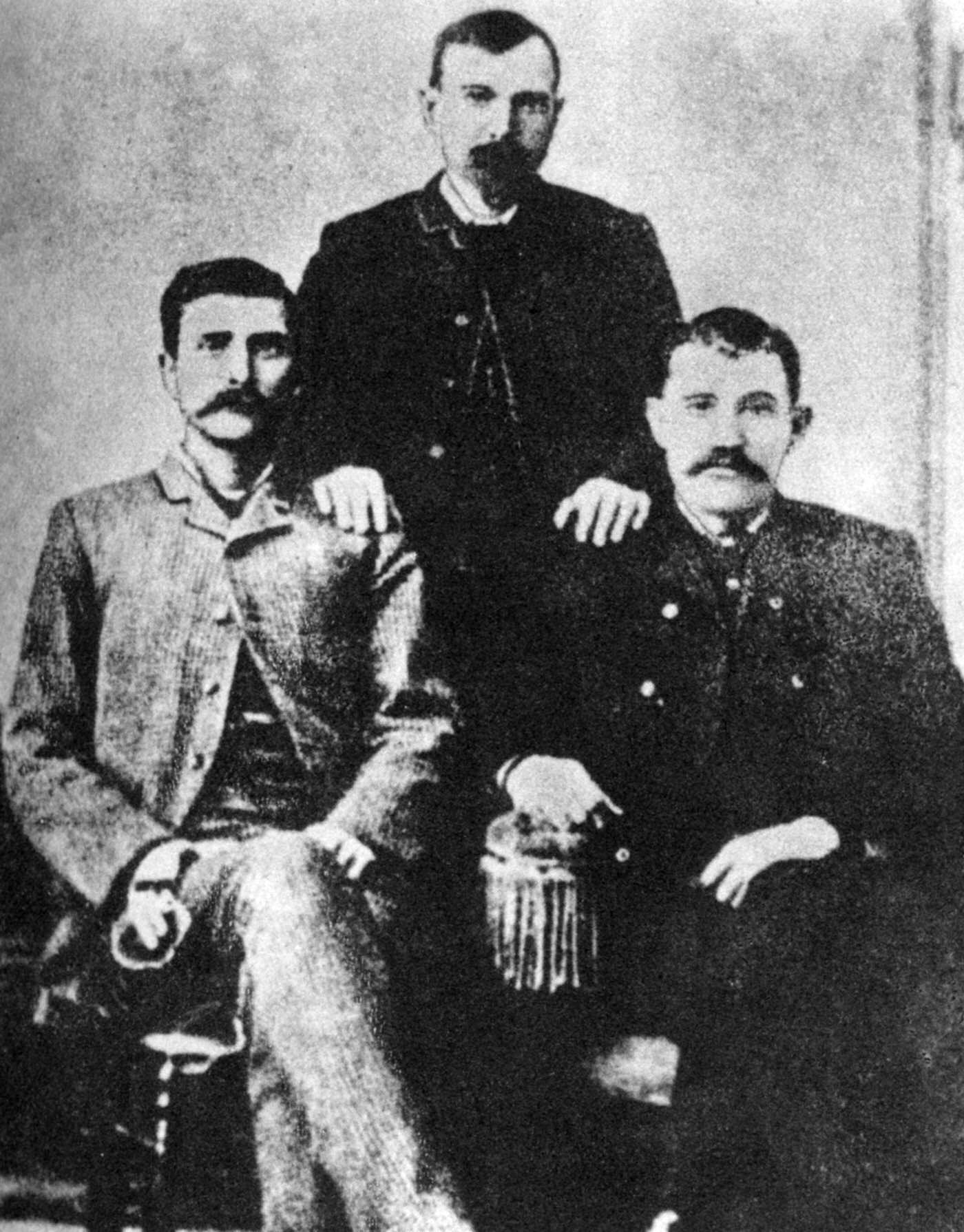 Lincoln County in New Mexico was the scene in 1877-1881 of a violent conflict between cattle ranchers and merchants in which the outlaw and gunman Billy the Kid was a prominent participant. Pat Garrett (left) was elected sheriff of Lincoln County in 1880 and charged with tracking down and arresting the Kid, which he succeeded in doing after a shootout. Billy escaped from custody and in 1882 was shot and killed by Garrett in Fort Sumner, New Mexico. Poe (right), who had been Garrett's deputy, succeeded him as sheriff in 1882 and Brent in turn was elected to the post in 1885.
#66

Annie Oakley, US rodeo star Annie Oakley (1860 – 1926), who was famous as a highly skilled trick shooter with the Buffalo Bill Wild West Show. One of her tricks was to shoot cigarettes from her husband's mouth.
#67

A disputed photograph of the train robber and outlaw Sam Bass, c1877-1878
#68

Indian Cabinet Color By Haynes, photographer Charles Howard is the author of this photo of a Sioux family from 1875 at Fort Bridger, Wyoming Territory.
#69

Western Town, wagons arriving in a new town in the American west, circa 1870.
#70

Carson, Nevada By O'Sullivan, desert sand hills near Sink of Carson, Nevada by Timothy H O'Sullivan 1867.
#71

On The Plains, view of a handful of buildings, in a small frontier town on the Plains, during America's westward expansion era, nineteenth century.
#72

J.L. Niebergall, Headquarters For Gents Furnishings Boots & Shoes, exterior view, with two men visible, of JL Niebergall, billed as the headquarters for Gents Furnishings Boots & Shoes.
#73

Unidentified Western Frontier Town, view of buildings, in a small frontier town on the Plains, during America's westward expansion era, nineteenth century.
#74

Buffalo Bill – Colonel W F Cody, famous for his cowboy shows about the Wild West of America. 26 February 1846
#75

Montana Cowboy, circa 1850, a native American cowboy in Montana.
#76

Windy Point, Pike's Peak, Colorado, late 19th century, illustration from Portfolio of Photographs, of Famous Scenes, Cities and Paintings, published by the Werner Company, 1899
#77

Buckboard wagons crossing Gila River near San Carlos, Arizona in 1885.
#78

A rider and his horse refresh themselves from a desert well 30 miles north of Palomas, Arizona in 1907.
#79

A band of Apache Indian prisoners take a rest stop beside Southern Pacific Railway near Nueces River, Texas in 1886.
#80

Two traditional methods of hauling water in Old Mexico and the southwestern United States are depicted in this photograph from Texas in 1905.
#81

Men gather to gamble over a game of Faro inside a saloon in Bisbee, Arizona in 1900.
#82

A new settler searches for a lot in the site of a new town in Guthrie, Oklahoma in 1889.
#83

The first blacksmith shop in Guthrie, Oklahoma in 1889.
#84

Land in a new territory is auctioned off in this tent in California in 1904.
#85

The first house built on the present site of Dodge City, Kansas in August 1872.
#86

A poker party is underway at John Doyle's ranch in Arizona, between 1887 and 1889.
#87

Inside a bar at the Table Bluff Hotel and Saloon in Humboldt County, California in 1889.
#88

Anadarko Townsite, August 8, 1901: Auction in progress in lumber company booth, with temporary bank buildings and the beginnings of a lodging house nearby.
#89

Men lay down track for a new railroad, connecting the wild frontier with the world in Arizona in 1898.
#90

A family with their covered wagon during the Great Western Migration in Loup Valley, Nebraska in 1886.
#91

Discovery party and horses on hot, slick rocks of Navajo Mountain on their way to Rainbow Bridge in Utah in 1909.
#92

Gros Ventre Camp, Fort Belknap Reservation: A dog is being roasted over the cooking pot at Fort Belknap Reservation, Montana in 1906.
#93

Eleven-year-old Jimmy McKinn was abducted by Geronimo in early September 1885. When the Indians were briefly captured in March 1886
#94

Cowboy with lasso readied looks beyond the herd on the open range to his fellow cowpunchers waiting on the horizon during a roundup on the Sherman Ranch in Genesee, Kansas in 1902.
#95

Cowboys branding calves in Montana.
#96

A photograph of the buffalo hide yard in Dodge City, Kansas in 1878, showing 40,000 buffalo hides.
#97

Buckboard and coaches zigzagging down the "W" Pike's Peak carriage road in Colorado in 1911.
#98

Outlaw John Sontag was shot to death on September 14, 1904. This photograph was taken while he was not yet dead.
#99

Camp of the miners of the North Star and Mountaineer lodes in San Juan County, Colorado in 1875.
#100

A gold rush town in Deadwood, Dakota in 1876.
#101

A family poses outside their home in New Mexico in 1895. Note the Native American servant holding their child.
#102

This photograph captures the saloons and disreputable places of Hazen, Nevada in 1905.
#103

The Klondyke Dance Hall and saloon in Seattle, Washington in 1909.
#104

A street view in a typical American Frontier town, Corinne, Utah in 1869.
#105

In 1907, a cow is used to transport seven children to school in Okanogan, Washington.
#106

This photograph from 1895 shows a teacher and her students posing in front of a sod schoolhouse in Woods County, Oklahoma.
#107

The first water works of Perry, Oklahoma were established in 1893, as captured in this photograph.
#108

Correspondent Fred W. Loring and his mule were photographed in Arizona in 1871. Loring was killed by Apaches just two days after this picture was taken.
#109

A Pony Express rider is depicted in this photograph from 1861.
#110

Trappers and hunters, including the Crab Tree boys and their father, with their dogs and burrows, are seen in Brown's Basin, Arizona in this photograph from an unknown date.
#111

Mine workers are pictured coming out of a mine shaft in Virginia City, Nevada, during the years 1867-1888.
#112

This photograph from 1889 shows a fishing camp set up by some Chinese settlers of the American frontier in Point San Pedro, California.
#113

Shoshone tribe members are shown dancing on a Native American reservation in Ft. Washakie, Wyoming in 1892.
#114

Apaches are depicted delivering hay to American settlers in Arizona in 1893.
#115

This photograph from 1882 shows a class in blacksmithing at the Forest Grove School in Oregon.
#116

Judge Roy Bean's notary office, which also served as a saloon, is captured in this photograph from Langtry, Texas in 1900.
#117

Cheyenne Indians, captured as they were trying to return to the Black Hills from a reservation in Oklahoma, are held prisoners in County Jail in Dodge City in 1878. This photograph was taken in 1913.
#118

U.S. Deputy Marshals are seen posing with the clerical force in Perry, Oklahoma in 1893.