The Post-WWI era was the period of rapid social and political change in the United States. Americans were moving towards cities and the nation's total wealth more than doubled in the 1920s. The country was industrialized significantly in the 1920s and shifted from an agriculture based-economy to an industrialized nation. A housing boom with mortgages for the middle class on much more generous terms than ever before. Americans were spending huge money on consumer goods such as home appliances, vehicles, and ready-to-wear clothes. By the end of the 1920s, there were radios in more than 12 million households.
These stunning color photos offer a rare glimpse into American life in the 1920s. These photos show the countryside, natives and indigenous people, markets, roads, streets, towns, and cities
#1

Three men stand in front of a plane on the Crowe Reservation in Montana.
#2

Amazing view of the Capitol.
#3

A girl poses with corncobs and pumpkins during the harvest, Virginia.
#4

Mount Shasta in California and a woman at the edge of a pond.
#5

Two men stand among white birches in the Battenkill Valley, Bennington, Vermont.
#6

A rider poses with her pony in a rodeo in Texas.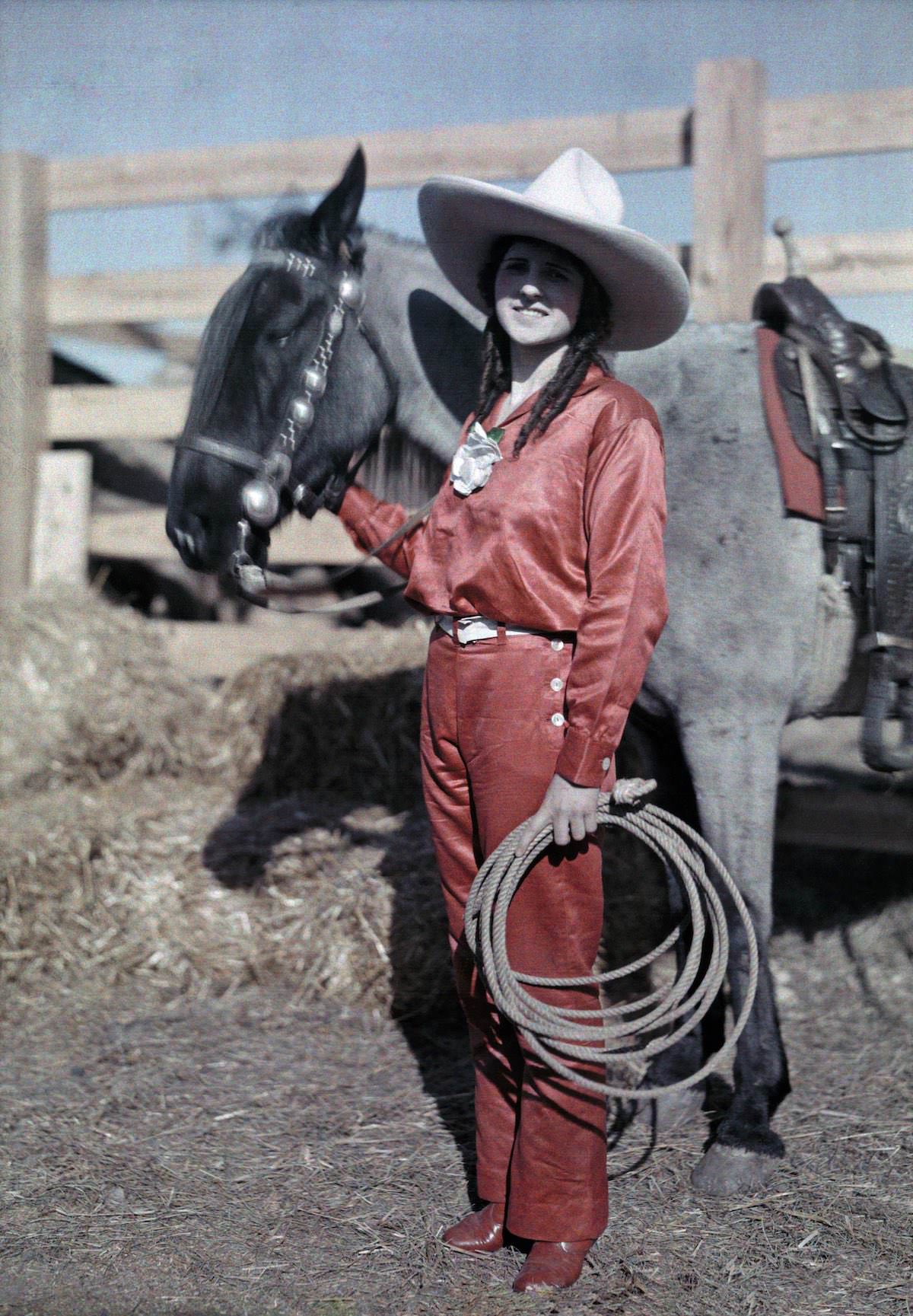 #7

Vacationers by a running river on a warm summer day.
#8

Two women look west from Stowe's village towards Mount Mansfield, Vermont.
#9

Indian family in their dwelling, tipi. Montana.
#10

A woman with a teenager washes on the street in Sperryville.
#11

A Hopi Indian on his donkey stands on the edge of a high mountain.
#12

Portrait of a Hopi Indian woman weaving a basket.
#13

A group of children looks at an elephant at the National Zoo. Washington, DC.
#14

A woman in front of a fruit rack in the US capital. Washington, DC.
#15

Women sit on the beach. St. Petersburg, Florida.
#16

Portrait of a boy in New Orleans.
#17

View of the Hudson River in New York.
#18

A group of people relaxing on the ocean coast, Miami Beach, Florida.
#19

Swimming competition in Florida
#20

The sixty-story Woolworth Building rises on the New York skyline.
#21

New Yorkers browse the assortment of goods sold along city streets.
#22

Aerial photography of Manhattan.
#23

People in the cotton field in Louisiana.
#24

A coastal patrol pushes a boat into the water. Atlantic City, New Jersey
#25

Five boys eat watermelon in New Orlean.
#26

Kids outside a house with a turf roof. Pine Ridge Indian Reservation, South Dakota.
#27

At the fair in Lyndonville, Ohio.
#28

Apple stands at the Lyndonville fair, Ohio.
#29

A group of students on the terrace at Cornell University.
#30

Washington Square and Fifth Avenue.
#31

French Quarter, New Orlean.
#32

Praline saleswoman in the French Quarter.
#33

Children gather around a snowball vendor, New Orlean.
#34

A woman sitting on stone steps in the French Quarter sells pralines.
#35

A boy sits on a barrel outside a brewery in the French Quarter, New Orlean.
#36

Washington Square in New York.
#37

Men stand next to a car in a field and look at a nearby canyon. Hopi Indian Reservation
#38

A rider shows her sister how to handle ropes, Fort Worth, Texas.
#39

A view of the main street in the downtown area of Columbus, Ohio.
#40

Panoramic views of beaches, marinas, and hotels along the waterfront. Atlantic City, New Jersey, 1920s.
#41

A ranch where guests can feel like cowboys in Arizona.
#42

A woman sits outside the door of the Old Absinthe House in New Orleans.
#43

Four tour guides await tourists for a tour of the Gettysburg Battlefield, Gettysburg, PA.
#44

Coast Guard officers set sail in their boat.
#45

Cowboys and horseback riders sit along a fence at a rodeo, San Antonio, Texas.
#46

Men load bins with sulfur, Galveston, TX.
#47

A man shovels sulfur in a warehouse near the pier, Galveston, Texas.
#48

Three young women at the rodeo, Fort Worth, Texas.
#49

Men stand next to the monument to the Seventh Cavalry. Crow Indian Reservation, Montana
#50

Head of the Crowe Indian Reservation, Montana