Johnny Depp is one of the most famous and versatile actors of his age. He started his career as a musician but later switched to acting.
Music Career
Depp dropped out of school when he was 16, and moved to Los Angeles to pursue a music career. He launched his band 'The Kids' which got a modest success. He has also recorded twice with British band Oasis. In 1983, Depp married make artist, Lori Allison, and worked a verity of odd jobs, such as ballpoint-pen salesman. He met Nicolas Cage, who advised him to switch to acting.
Acting Career
Depp made his screen debut in 1984 with a low budget horror film, 'A Nightmare on Elm Street', where he played a teenager who falls prey to dream-stalking demon Freddy Krueger. In 1987, he played the role of an undercover cop in Popular TV series '21 Jump Street'. The show was a hit, which made him famous as a teen heartthrob. Throughout the 1990s he appeared in several notable movies such as 'Dead Man', 'Donnie Brasco' and many more. He rose to fame with the role of Captain Jack Sparrow in adventure film 'Pirates of the Caribbean', the film was a super hit, and he earned worldwide acclaim for his comic performance. He reprised the role of Jack Sparrow in all Pirates sequels.
Johnny Depp's relationships and marriages
Depp marriage Lori Allison in 1983 and divorced after two years. He engaged to Jennifer Grey and Sherilyn Fenn. Depp also had a relationship with Winona Ryder, Kate Moss, Vanessa Paradis. After breaking up with Paradis, he married actress and model Amber Heard in 2015. Heard filed a divorce in 2016 and accused him of verbal and physical abuse. However, she failed to provide sufficient evidence to prove her claim. Heard dismissed the restraining order, and later accepted that 'There was never any intent of physical or emotional harm'. In early 2019, Depp sued Heard for US$50 million for defamation over an op-ed she wrote for The Washington Post, and he also released audio recordings of conversations between himself and Heard.
Here below are some fantastic photos of young Johnny Depp from his early life.
#1

Johnny Depp with Nicolas Cage, 1988
#2

Young Johnny Depp with his guitar in 1987 in New York City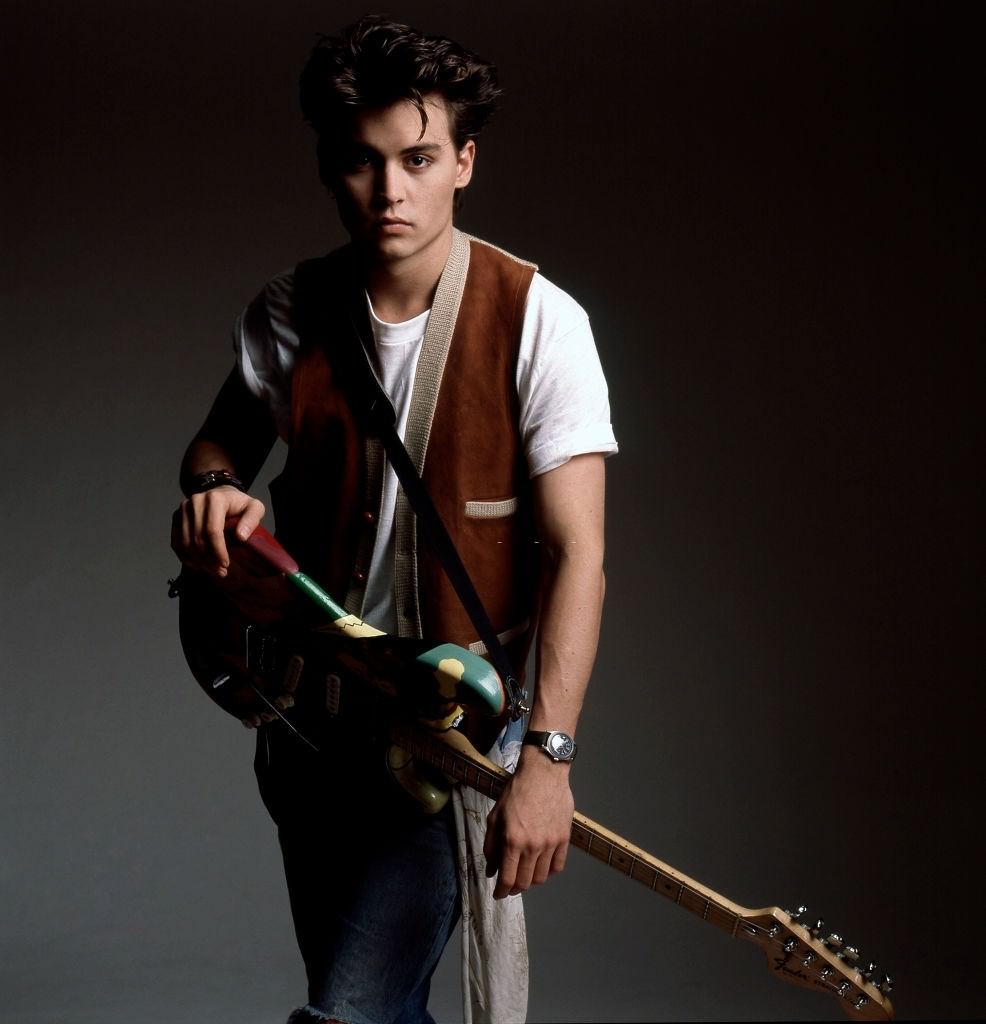 #3

Johnny Depp at the premiere of the film, 'Die Hard,' 1988
#4

Young Johnny Depp, 1988
#5

Johnny Depp holding a dog, 1988
#6

Johnny Depp at LAX at Los Angeles International Airport, 1988
#7

Johnny Depp at the 18th Annual Nosotros Golden Eagle Awards, 1988
#8

Johnny Depp at the Century Plaza Hotel in Los Angeles, 1988
#9

Johnny Depp with Soleil Moon Frye, 1988
#10

Johnny Depp, circa 1990
#11

Johnny Depp with Winona Ryder at press conference, 1990
#12

Handsome Johnny Depp, 1990
#13

Johnny Depp in a scene from the film 'Cry Baby', 1990
#14

Johnny Depp during "Mermaids" Premiere at The Academy in Beverly Hills, 1990
#15

Johnny Depp and Jerry Lewis on the set of Arizona Dream, 1991
#16

Johnny Depp with Leonardo DiCaprio at the Paramount Theater in Los Angeles, 1993
#17

Johnny Depp with Elton John, 1980
#18

Johnny Depp with Dustin Nguyen and Peter DeLuise, 1987
#19

Johnny Depp with Peter DeLuise, 1987
#20

Johnny Depp in a publicity portrait from the television series '21 Jump Street', 1987
#21

Johnny Depp at a party, 1988
#22

Johnny Depp with Muhammad Ali, 1988
#23

Johnny Depp with Kate Moss, Los Angeles, 1988
#24

Johnny Depp giving autographs, 1988
#25

Johnny Depp with an unknown girl, 1989
#27

Johnny Depp with Kate Moss, 1989
#28

Johnny Depp and Kate Moss, 1989
#29

Johnny Depp with his girlfriend, Winona Ryder, 1990
#30

Johnny Depp with Kate Moss, 1990
#31

Johnny Depp with Dianne Wiest on the set of Edward Scissorhands, 1990
#32

Johnny Depp with Faye Dunaway on set of the film Arizona Dream, 1991
#33

Johnny Depp on the beach, 1992
#34

Johnny Depp during the 7th Annual Spirit Awards ceremony, 1992
#35

Johnny Depp at he Cannes Film Festiva, 1992
#36

Johnny Depp with Mary Stuart Masterson, 1993
#37

Johnny Depp during the filming of 'What's Eating Gilbert Grape', 1993.
#39

Johnny Depp, January 1993
#40

Johnny Depp with Mary Stuart Masterson and Aidan Quinn at the Planet Hollywood in New York City, 1993
#41

Johnny Depp with Ellen Barkin, 1994
#42

Johnny Depp with Kate Moss, 1994
#43

Johnny Depp with Mickey Rourke at a party being held for Mickey Rourke's birthday, September 1994
#45

Johnny Depp at the Sherman Oaks Galleria in Sherman Oaks, 1987
#46

Johnny Depp with Winona Ryder at the Premiere of 'Cry Baby', 1990
#47

Johnny Depp on the set of Ed Wood, 1994
#48

Johnny Depp with Shane MacGowan, 1994