The 1920s and 1930s were when women aviators began to become more common and attracted increased attention, culminating in Amelia Earhart's flights. Despite Earhart's death in 1937, women aviators made significant contributions to aviation, especially during World War II as auxiliary pilots.
Elisabeth Thible became the first woman to fly as a passenger in a hot air balloon in 1784. Women again took to the air in 1909, but this time in a heavier-than-air craft. A Frenchwoman named Elise Deroche (1889-1919), who referred to herself as a baroness, although the legitimacy of the title was doubtful, became the world's first licensed female pilot in 1910. During the next few years, women in Germany, Italy, and America became licensed to fly, many of them explicitly demonstrating that they were as capable as men. Blanche Scott (1890-1970) was the first American woman to fly solo, hired by Curtiss Airplane Company to demonstrate airplane safety. During the next six years, Scott performed stunts in aerial exhibitions. A second woman, Bessie Coleman (1893-1926), challenged racial and gender barriers. Although she was not allowed to attend American flight schools because of her race, she became the first black woman in the world to earn a pilot's license in France. She opened a flight school in 1921 after returning to the U.S. Unfortunately. She died in a plane crash just five years later.
The first women to fly across the English Channel were Harriet Quimby (1884-1912), Ruth Law (who set a female and male non-stop distance record), and Katherine Stinson, who were notable women pilots of the 1910s and 1920s. The most famous of these was Amelia Earhart. Soviet pilots flew antiquated bombers to attack German positions in Crimea during the Second World War. Women pilots, no matter where they flew, faced similar obstacles. There was some resistance from male pilots and, in many cases, from airplane owners, their families, and the public. In general, this resistance stemmed from a few basic causes. Some believed women were too weak or slow to control aircraft moving at high altitudes and speeds safely. Flying was considered "unfeminine," and women who wanted to fly were suspected of being the same. Women's roles in the military remain more limited than men's, but they began to receive larger and more technical roles during World War II. Women were allowed to join the military and to fly in support roles for the Allies. Women pilots, for instance, freed up men for combat missions by ferrying planes from factory to air base and across Europe. For many years, women's roles in military aviation stagnated in the U.S. due to public, military, and government reluctance to risk their lives. American women were not permitted to fly combat aircraft in potentially hostile situations until after the Persian Gulf War in the early 1990s.
#2

essie Coleman in her leather flying helmet, with goggles, and fur-trimmed flight jacket appeared on her Federation Aeronautique Internationale (FAI) pilot's license.
#4

American Ruth Law (1887-1970). In 1915, Law looped the loop twice for the crowd at Daytona Beach, Florida, 1914.
#5

A vintage postcard showing Therese Peltier, the first woman to pilot a heavier-than-air craft, in Turin, 1908.
#6

Blanche Scott (1885-1970), possibly the first American woman aviator and also the second woman to drive across the United States, 1910.
#7

Hélène Dutrieu (1877-1961), Belgian aviator. Dutrieu was also a cycling champion, stunt motorcyclist, racing car driver, stunt driver and war ambulance driver, 1914
#8

"Elinor Smith, 16, who will use the Waco plane beside which she is standing in an attempt to set a new altitude record for women, 1927
#9

"Miss Elinor Smith of New York, and Miss Bobby Trout of Los Angeles with the radio equipment which they will take up on the first woman's refueling flight for endurance, 1927
#10

Winifred Spooner (1900-1933), English aviator.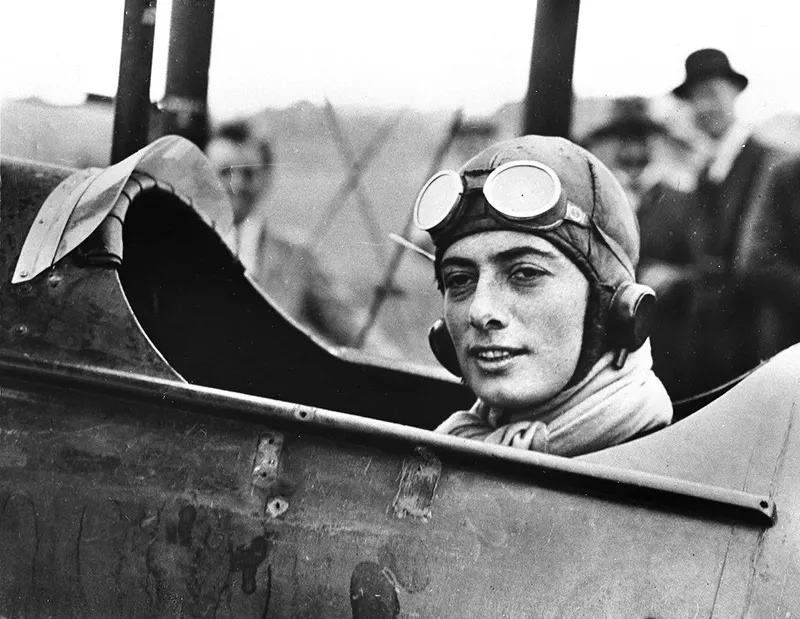 In 1930 Spooner set off from London with another pilot, Captain Edwards, to try to prove that Cape Town in South Africa could be reached in five days, flying nonstop. One night, with Edwards at the controls, the plane lost height and ditched into the sea off the coast of Italy. Edwards could not swim, so Spooner had to swim the two miles to shore in order to fetch help, leaving Edwards sitting on the fuselage of the aircraft. Spooner died three years later, having caught a cold which developed into pneumonia. 1929.
#11

Ruth Nichols (1901-1960) with her plane, 1929
#12

Matilde Moisant was one of the earliest women pilots in America.
#13

Harriet Quimby was the first American woman to earn a pilot's license.
#14

Blance Stuard Scott was a daring person, with feats on land and in the air.
#15

"Katherine Sai Fun Choung, a young aviator has just got her pilot license and goes back to China, where she will opened an aviation school for girls, 1930.
#16

Hélène Boucher Boucher (1908-1934), French aviator. Boucher held a number of women's speed records before her death in a crash, 1930.
#17

Maryse Hilsz (1901-1946), French aviator. Hilsz gained a reputation for flights of endurance.
#18

Maryse Bastiè (1898-1952) and Gilda de Bankford. Bastié's fascination with flight began when she married a WWI pilot. Her husband died in a plane crash in 1926.
#19

"Florence Lowe Barnes, good-natured "Tomboy of the Air," who will enter the First National Women's Air Derby, which will be flown from here to Cleveland starting August 18th. She is from California, 1930.
#20

Amy Johnson CBE, (1903-1941), a pioneering English aviatrix, seen here adjusting the engine of a de Havilland DH60 Moth.
#21

Jean Gardner Batten (1909-1982), New Zealand aviator. Known as "Greta Garbo of the skies," in 1936 Batten made the made the first solo flight from England to New Zealand.
#22

Lady Louise Montagu, daughter of the Duke of Manchester, standing next to her plane, having taken her "A" license and completed a bling flying course, Heaton Airport, Chester. 1934.
#23

English aviatrix Amy Johnson (1903-1941) shown at a landing in Berlin. She was the first woman to make a solo flight from London to Australia in 1930.
#24

Elisabeth Lion (1904-1988), French aviator. Lion was awarded Chevalier of the Legion of Hono, 1938.
#25

"Amelia Earhart, first lady of aviation, is shown immediately after she landed her Lockheed Vega plane at the Los Angeles Municipal Airport, July 2, after completing a transcontinental flight from the East.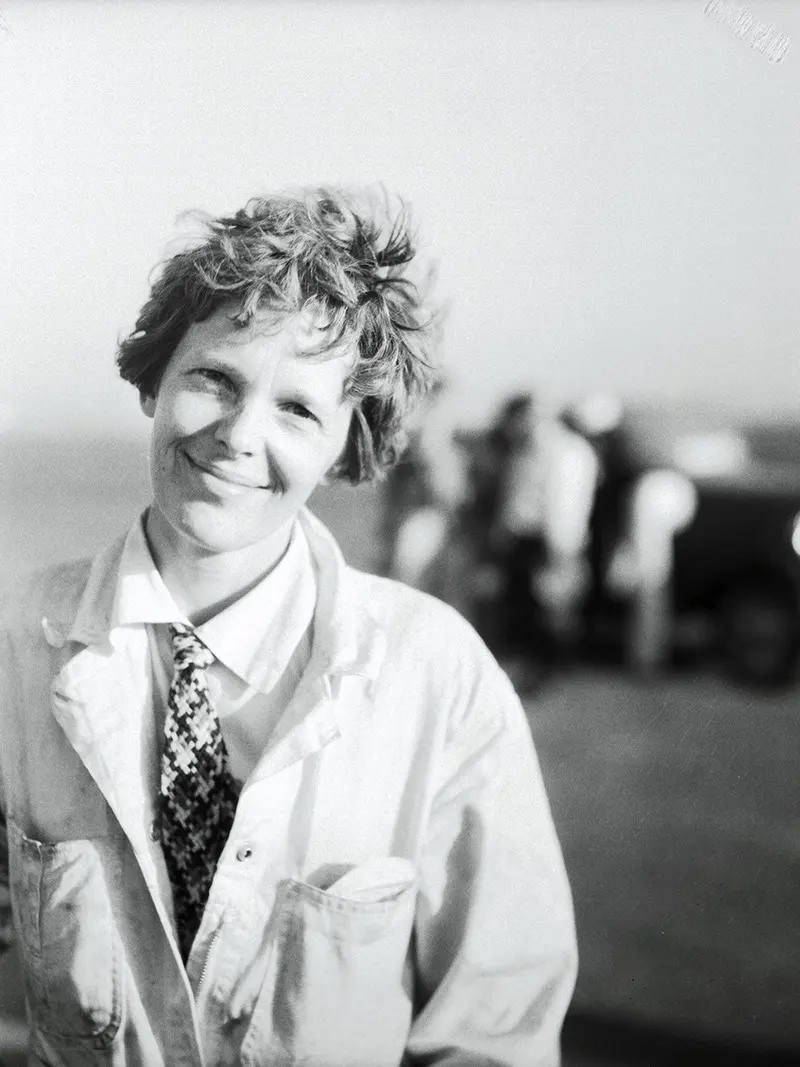 Miss Earhart failed to qualify, due to delays encountered on her flight. She said it was the most hazardous trip she had ever made. The crowd gave her a tremendous ovation as she brought her ship to the ground, during the second day's events of the National Air Races." (Photo taken in 1933).
#26

Aida de Acosta flying the airship Baladeuse in 1903 – the first woman to pilot a powered aircraft.
#27

Willa Brown, the first African-American woman to receive a commission as a lieutenant in the U.S. Civil Air Patrol.
#28

Bessie Coleman in 1922.
#29

World's first female combat pilot, Sabiha Gökçen.