After the end of World War II Japan faced a disastrous situation. The nation was disarmed, its empire dissolved, its form of government changed to a democracy, and it's economy and education system reorganized and rebuilt. Years of reconstruction were required to fully recover, however, Japan set an example for the rest of the world. During the economic boom, japan rapidly became the world's second-largest economy.
Here below some amazing historical photographs that will take you back to Post-war Japan. These photos show capture life, culture, events, and everyday life of Japanese from the 1950s.
#1

A young Japanese woman in a kimono takes part in the Hula-Hoop craze that swept America and Japan in this October 30, 1958.
#2

Women greet repatriated Japanese soldiers, formerly prisoners of war, on April 26, 1950. The men bear the ashes of their friends who died during their imprisonment.
#3

At the "America Fair". Left: Three kimono clad Japanese girls sit at the base of a reproduction of the Statue of Liberty at the America Fair, which opened in Osaka, Japan, on March 25, 1950.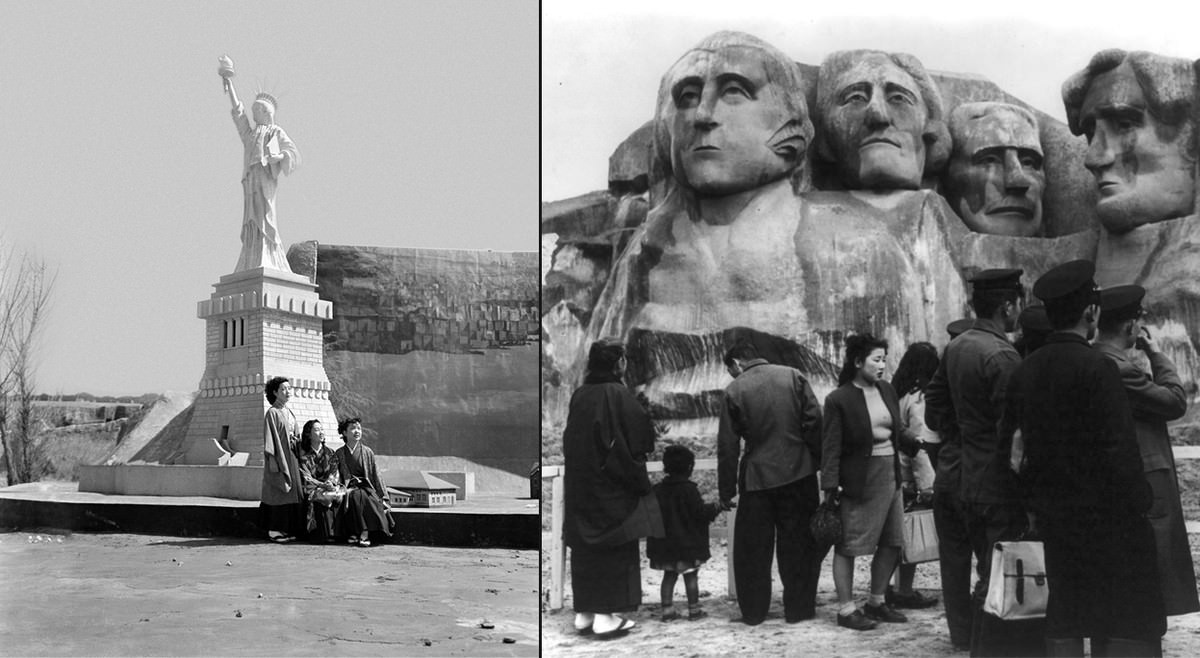 Right: A replica of the Mt. Rushmore memorial in South Dakota, one of the exhibits portraying U.S. history and notable scenes at the America Fair. The fair portrayed "significant events in American history and followed the growth of the United States to its current standards of efficiency in sciences, industry and agriculture.
#4

Engines of U.S. Air Force B-26 bombers are revved up shortly before taking off from Far East Air Force field in Japan on September 20, 1950, for combat missions in Korea.
#5

A Japanese girl carefully sorts cultured pearls raised on Kokichi Mikimoto's pearl farm near the tip of Japan's Ise peninsula on October 12, 1949.
#6

To draw the public's attention to a new line of bathing suits, a Tokyo department store used live models to show off the suits on June 5, 1950.
#7

Dining room of an orphanage in Osaka, Japan, on February 19, 1951, where the 160 orphans were fed each day on food purchased by the Wolfhounds, the 27th Infantry Regiment of the U.S. Army.
#8

Industrial training experts watch a light bulb machine drop bulbs down to other workers who sort them according to defects at Tokyo Shibaura Electric Co. in Tokyo on January 25, 1951.
#9

Dom DiMaggio of the Boston Red Sox gets set to swing during an exhibition game between the American All-Stars and the Yomiuri Giants in Japan on October 20, 1951.
#10

On August 3, 1951, six years after an atomic bomb was detonated above this spot in Hiroshima, a souvenir shop stands in the street near the shattered dome of the Industry Hall.
#11

Passengers on a train traveling from Tokyo to Osaka go through three minutes of calisthenics under leadership of a drill master, during a five-minute stopover at Hammamatsu on August 27, 1952.
#12

A lens is inspected at Tokyo's Nikon camera plant, on January 5, 1952.
#13

Pro-communist demonstrators stone Japanese policemen at the height of May Day riots in downtown Tokyo on May 1, 1952.
#14

A dazed Japanese youth, his face bruised and bleeding, is led from the riot scene by a policemen after pro-communist demonstrators were dispersed near the imperial palace grounds in Tokyo on May 1, 1952.
#15

Children of repatriated families scoot around the deck of the Koan Maru as their parents prepare to disembark at Maizuru Bay, Japan, on March 24, 1953.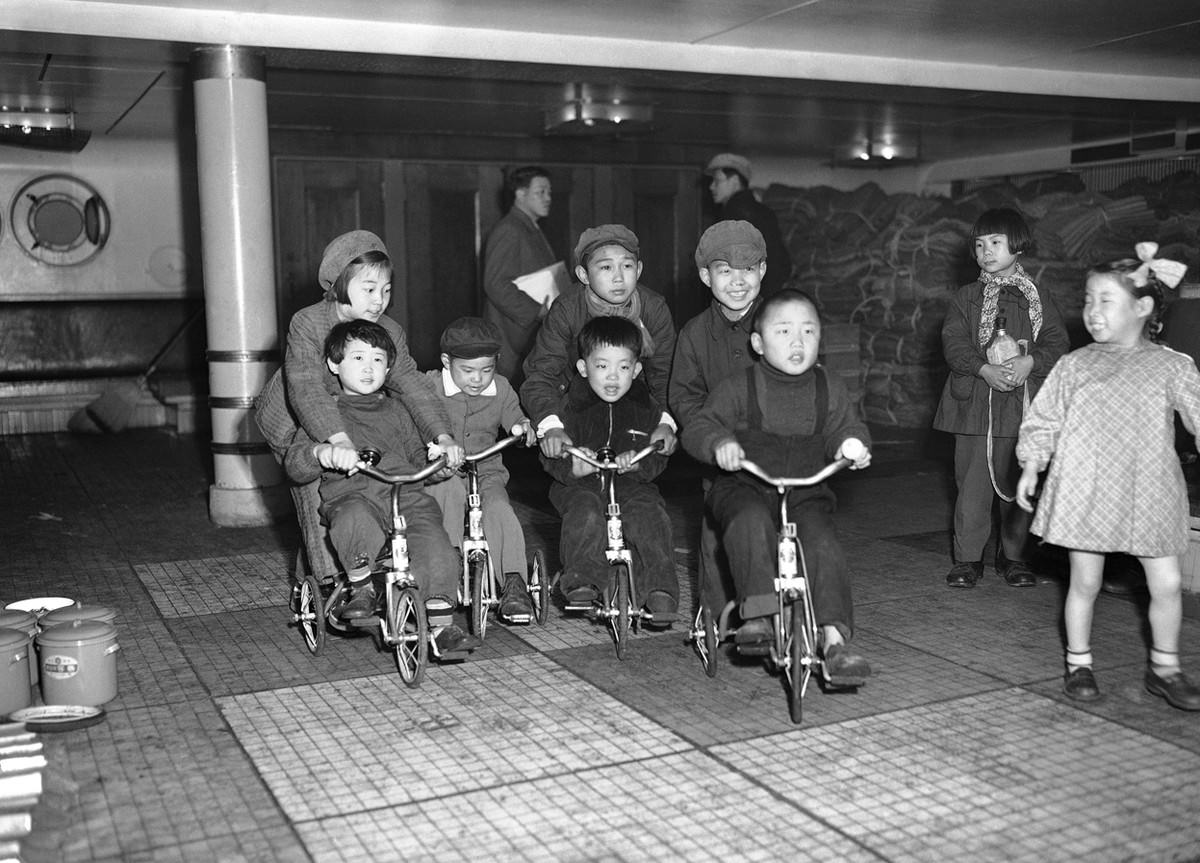 The first group of repatriates to be returned from Communist China where they had been stranded since the end of World War II completed the formalities through the processing center at Maizuru and were released to go home. The first batch of 2,000 men, women and children came from North China on the Koan Maru. The bicycles were gifts from charitable organizations and placed on the ship when it left China.
#16

A movie studio workman rigs up one of the scale model warships used in filming a battle scene in a Japanese documentary that tells the story of the last day of the battleship Yamato, on June 8, 1953.
#17

A scene from "Battleship Yamato" is filmed in the studio pool of Japan's Shin-Toho Motion Picture Company on June 8, 1953.
#18

Japan's movie makers filming on the last day of the documentary about the Battleship Yamato.
#19

A combination of two comparative novelties to Japanese audiences, television and American wrestling, brought out a tremendous crowd of fans watching the bouts on an outdoor screen in Tokyo on February 21, 1954.
#20

On the island of Iwo Jima, Japanese work crews cut up the wreckage of a naval vessel which was almost completely covered along the sandy beach on February 21, 1954.
#21

Spectators equipped with fans watch a baseball game between Waseda and Keio Universities at Meiji Park, Tokyo, on June 1, 1954.
#22

Ten thousand photo flashbulbs lit up a new television station and tower in downtown Tokyo on March 26, 1955, in what was called the biggest flash shot in the world.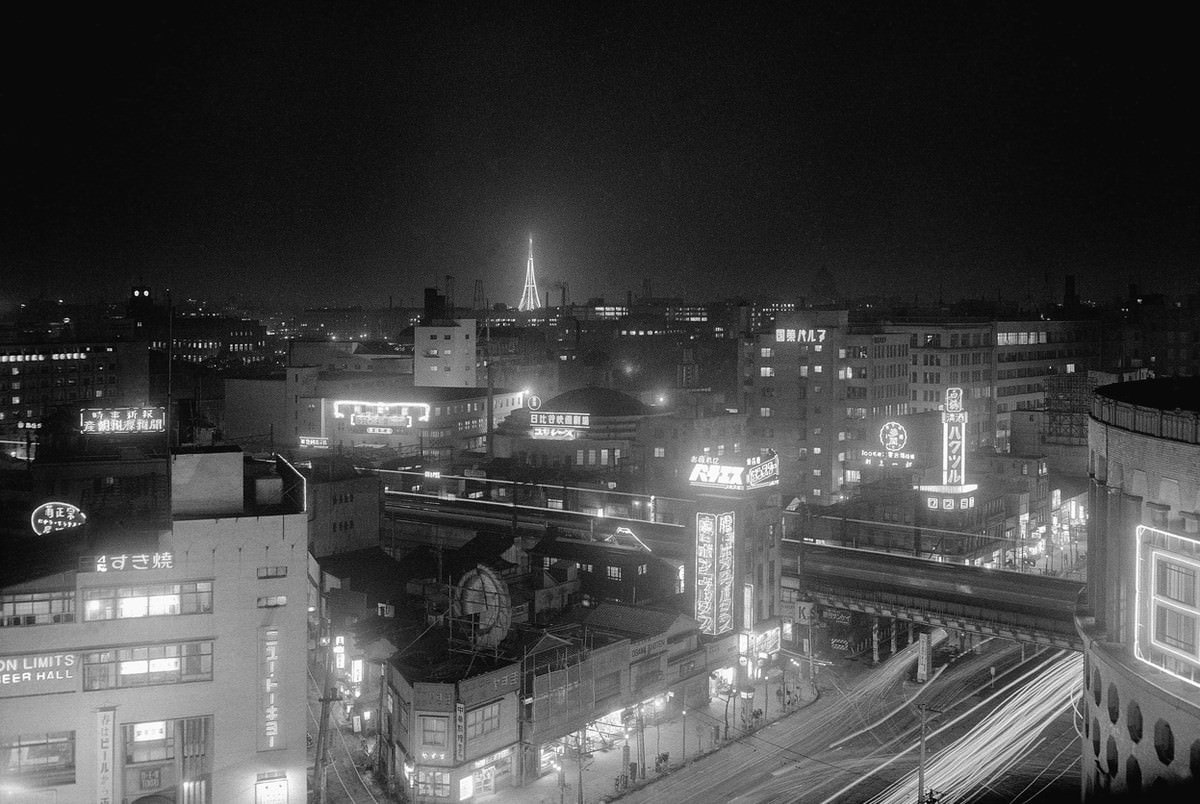 Radio Tokyo, in connection with a local flashbulb company, exploded the 10,000 bulbs on its new 516-foot television antenna to remind Tokyoites that it would begin telecasting on April 1. Thousands of camera fans crowded upper story windows and roof tops near the TV station to photograph the spectacle.
#23

Forty-five cameramen photograph the new Japanese cabinet at the Prime Minister's official residence in downtown Tokyo on December 17, 1954.
#24

Women nurses of Japan's newly-formed Self-Defense Corps man an aid station on Hokkaido, Japan, during maneuvers on October 20, 1955.
#25

An area of Tokyo, seen from the sky on August 5, 1955. Modern buildings have wiped out the scars of flattened blocks.
#26

Japanese girls Mitsuko Kuranoto, left, and Emiko Takemoto, survivors of the Hiroshima atomic bombing 10 years earlier, face newsmen and photographers at the Mitchel Air Force base on Long Island, New York, on May 9, 1955.
#27

A huge replica of an H-bomb mushroom cloud is carried through the streets of Tokyo, Japan, on May 1, 1957, in protest of a planned British H-bomb test at Christmas Islands.
#28

The transition from former enemy to ally is evidenced by these GI-clad Japanese army volunteers during maneuvers at the Fuji Army School outside of Tokyo on May 15, 1957.
#29

Soldiers practice bayonet tactics at the Kokubu Army Camp in Japan on May 22, 1957.
#30

Some 50 colorfully-garbed Buddhist monks march from the Buddhist goddess of Mercy Statue in Kyoto, Japan on May 11, 1958, after the unveiling of a memorial to Allied dead of World War II on June 8.
#31

Japanese children press close to view an "outer world" space exhibit in a Tokyo department store on August 19, 1958.
#32

Japanese dancers of the Schochiku dancing troupe rehearse one of their new numbers in the "natsu-no-odori" summer dance scene which they performed at the Kokusai Theater in Tokyo on July 11, 1958.
#33

Micky Curtis, an Elvis Presley-style singer, strums his guitar and sings just beyond reach of female admirers in the Nichigeki Theater in Tokyo on February 18, 1958.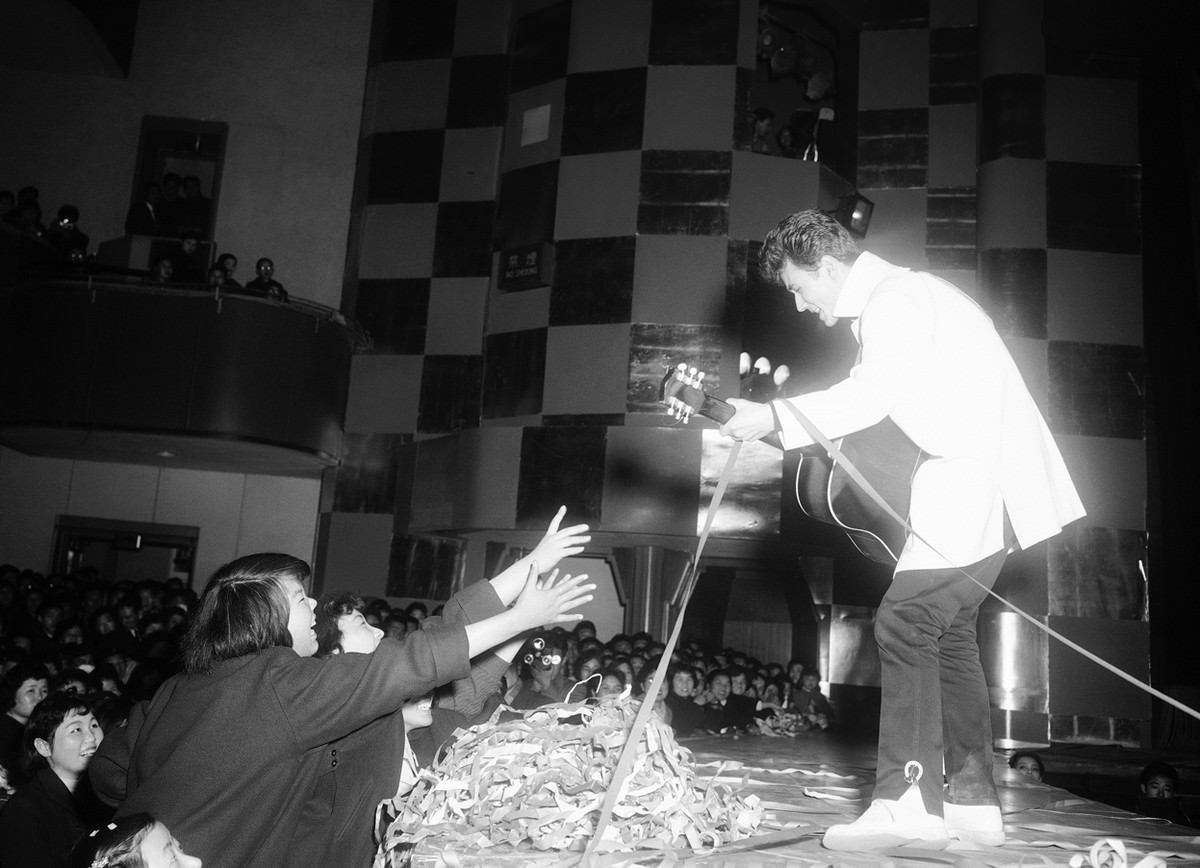 Japan was bouncing in a Rock 'n Roll craze as the Rockabilly music of the west jolted its way to the top of Japan's Hit Parade. Screaming, moaning, applauding teenagers packed the theater, throwing steamers toward the stage which the lucky singer dodged with timely gyrations.
#34

Interior of a Tokyo department store in 1959, where a Japanese man wearing Geta, traditional wooden footwear, looks up at a poster-sized portrait of Abraham Lincoln hanging with two other posters about Lincoln's life.
#35

Tooru Ohira, the Japanese voice of television's Superman, watches actor George Reeves closely while he dubs Japanese words for the show on July 7, 1959.
#36

College students employed as uniformed "pushers" cram commuters into railroad passenger cars in Tokyo.
#37

Tomiko Kawabata sits in her car and admires her new all-transistor, portable television set which Sony put into mass production, in Tokyo, on January 5, 1960.
#38

Golf enjoyed some popularity in Japan before World War II, but became a national obsession in the later years of postwar Japan.
#39

Mount Fuji, viewed from a passing train.
#40

Gen. Douglas MacArthur kisses the white-gloved hand of Madame Chiang Kai-shek on August 7, 1950
#41

On orders of General MacArthur, Japanese police closed Communist Party daily paper in Tokyo on June 26, 1950
#42

Inside the compound of the headquarters of the Japanese Red Cross in Tokyo (Shiba Park district) on June 3, 1950
#43

Students of the Red organized at the rally on the Imperial Palace Plaza in Tokyo on May 30, 1950, trying to rush some of the men sought by white helmet military policemen.
#44

Close up of the express engine Tsubame in Tokyo station on April 19, 1950.
#45

View of the kitchen on the Japan Railways Corporation express train with service to Kyoto, Osaka, and Kobe from Tokyo on April 19, 1950.
#46

A sandwich girl carries a sign proclaiming a new type of club where folks who work nights can come and enjoy themselves during the day, stops to adjust the bells on her ankles in Tokyo, March 19, 1950.
#47

Near the railroad station a group of unfortunate Japanese squatters all bundled up in rags sit in front of their make-shift homes
#48

An efficient overseas radio-telephone system.
#49

The heads all painted and the hair glued on, this Tokyo doll maker gets dolls ready for dressing in Tokyo on Jan. 26, 1950.
#50

The change of season, or '"Setsubun,'" is celebrated in traditional fashion at the Asakusa Temple in Tokyo on Feb. 9, 1950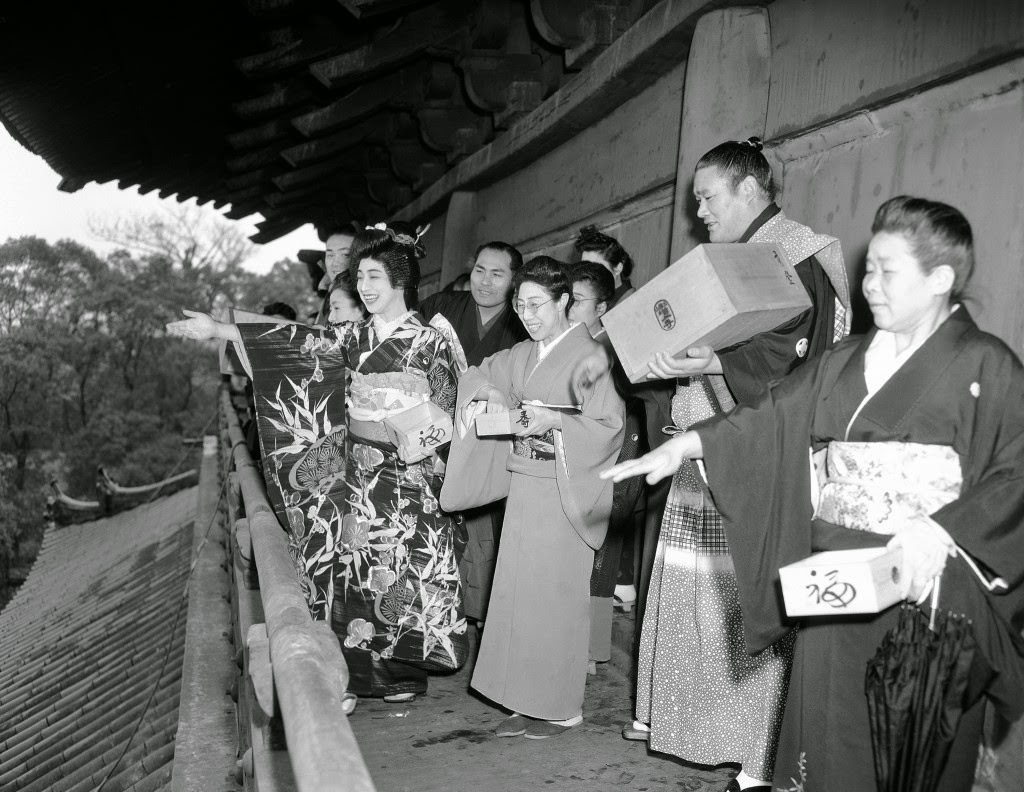 As a geisha girl, a sumo wrestler and other prominent personalities throw out roasted beans to the crowd that has gathered. As the beans are scattered, the person who tosses chants or sings: '"Devil outside, good luck inside.'" Custom is part of the temple festivities and Merry-making which greet the change of season, which comes on February 3 in Japan. To be chosen as one of the bean-throwers at the annual temple rites is considered a great honor, for which geishas, wrestlers, movie actresses and other public figures vie.
#51

Beauty parlor in the Shmbashi district
#52

This is one of the 46 men who were released by the army in Tokyo, as part of SCAP''s plan.
#53

To draw the public''s attention to a new line of bathing suits, a Tokyo department store uses live models to show off the suits, June 5, 1950.