Leeds is a city in the county of West Yorkshire, England. In the 1970s, Leeds was a bustling industrial city with a population of around 500,000 people. The city was known for its textiles industry, which had been a major contributor to the local economy for centuries. In the 1970s, Leeds was also home to a number of other major industries, including engineering, printing, and food processing.
The 1970s were a time of significant social and cultural change in Leeds and the rest of the United Kingdom. The 1970s saw the rise of punk rock, which had a significant impact on the music scene in Leeds. The city was also home to a number of notable cultural institutions, such as the Leeds Playhouse and Leeds City Art Gallery.
In terms of politics, the 1970s were a tumultuous time in Leeds and the rest of the UK. The country was dealing with economic problems, including high inflation and rising unemployment. The government of the time, led by Prime Minister James Callaghan, faced a number of challenges, including strikes and industrial action.
#1

Shoppers crossing Lands Lane.
#2

Opposite the Parkinson Building on Woodhouse Lane – Austicks for stationery, Ainsley's for sandwiches.
#3

Big Mechanical-Clock in Thornton's Arcade.
#4

Parkinson Building and Tower.
#5

University originated as the Yorkshire College of Science. This is the Great Hall designed by Alfred Waterhouse RA in the inevitable Gothic style, and built in the 1880s for £22,000.
#6

Parkinson Building on Woodhouse Lane. The Morris Motor Company appears to have a monopoly on transport.
#7

Slum clearance, near Burley road, 1972.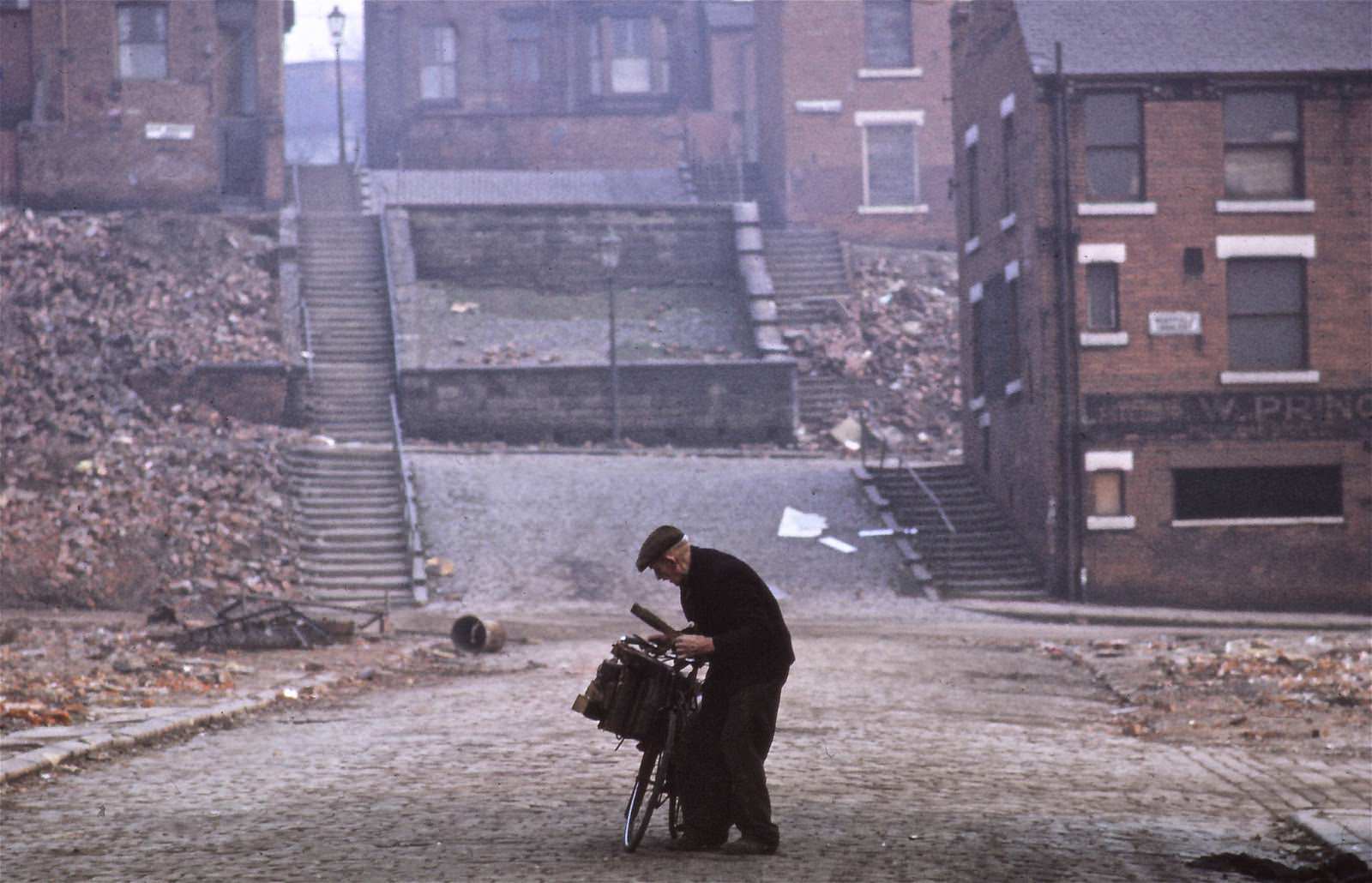 #8

Slum clearance, Burley Road.
#9

Slum clearance, Burley Road.
#11

Horse and cart on Brudenell Road
#12

Entrance to Kirkgate Market with its wonderful Victorian facade.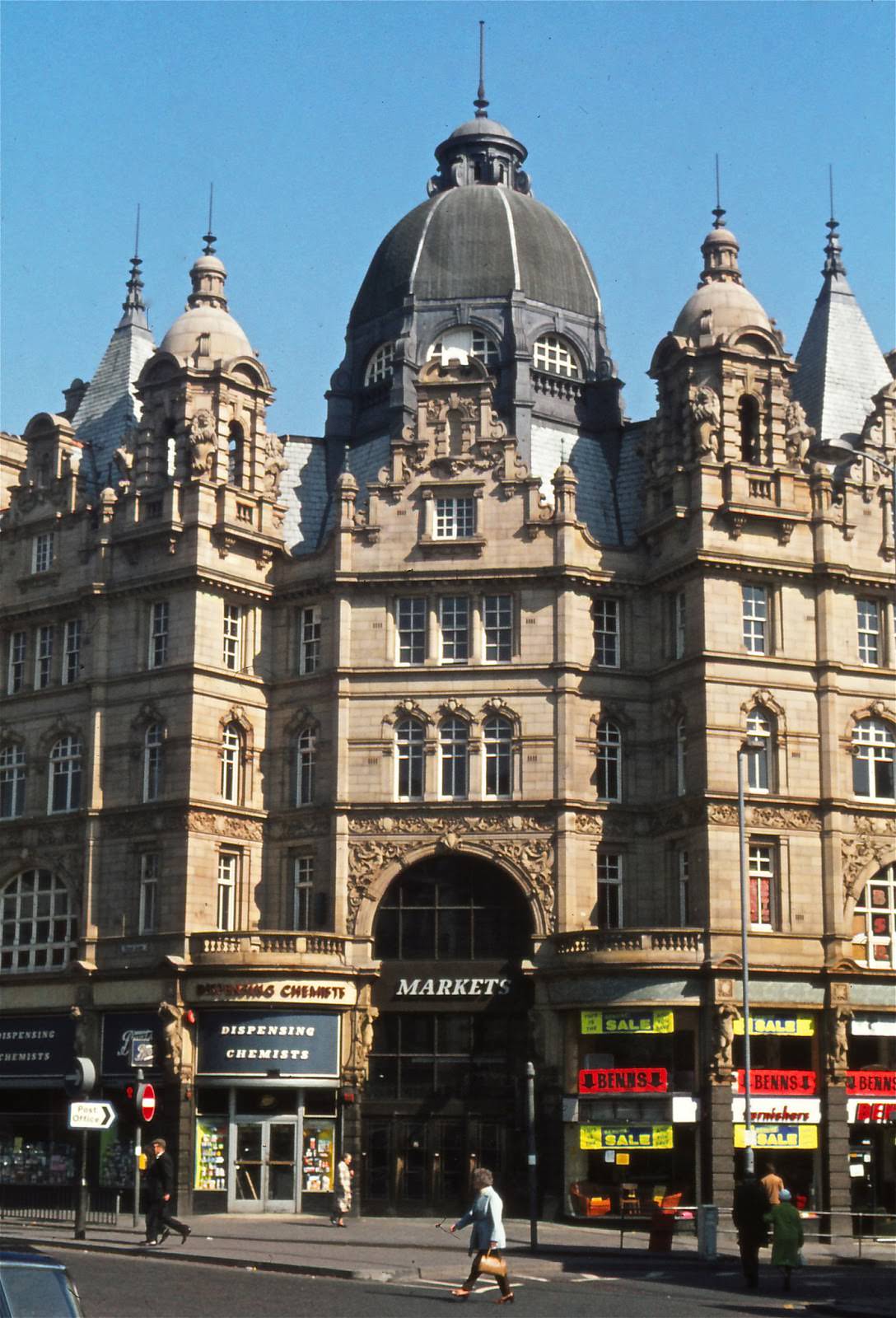 #13

This is one of the arcades that criss cross the city centre.
#14

Inside the market hall – a markedly different shopping experience from that in the 'arcades'.
#15

Newsome's Famous Flower Corner in the Indoor Market.
#16

The halls of academe, Leeds University.
#17

Graduation Day 1973 – entrance to the Clothworkers' Court.
#18

Leeds-Liverpool Canal 1973.
#19

Temple Newsam, Whitsun, 1975.
#20

Theatreland, Upper Briggate. The coach would've been operated by the splendidly named West Yorkshire Road Car Company.
#21

The pavement is our playground.
#24

Pedestrianisation – looking towards Betty's Cafe – and Peter Lord if you want some Clarks Shoes.
#25

Kirkgate Market still covered in grime. And new premises for the Leeds not-so-Permanent in the long run Building Society. High & Mighty on the extreme left and Thom's.
#26

Interior of one of the Victorian Arcades. In those days you could pop in to a tool factor/ironmongers and seek advice on the right kit for making a stopped-housing joint.
#27

Exterior of Thornton's Arcade.
#28

Shop in that part of Kirkgate Market.
#29

The Empire on which the concrete never sets. Style a bit different compared to the Great Hall.
#30

Walking across the clearance area towards the Kirkstall Road.
#32

Fishing on the Leeds-Liverpool Canal near Armley.
#34

Cardigan Road. Coal Depot.
#35

Woodhouse Moor. More simple pleasures from a bygone era.
#39

The leafy suburbs. Probably near Weetwood Lane, What is that wonderful white car?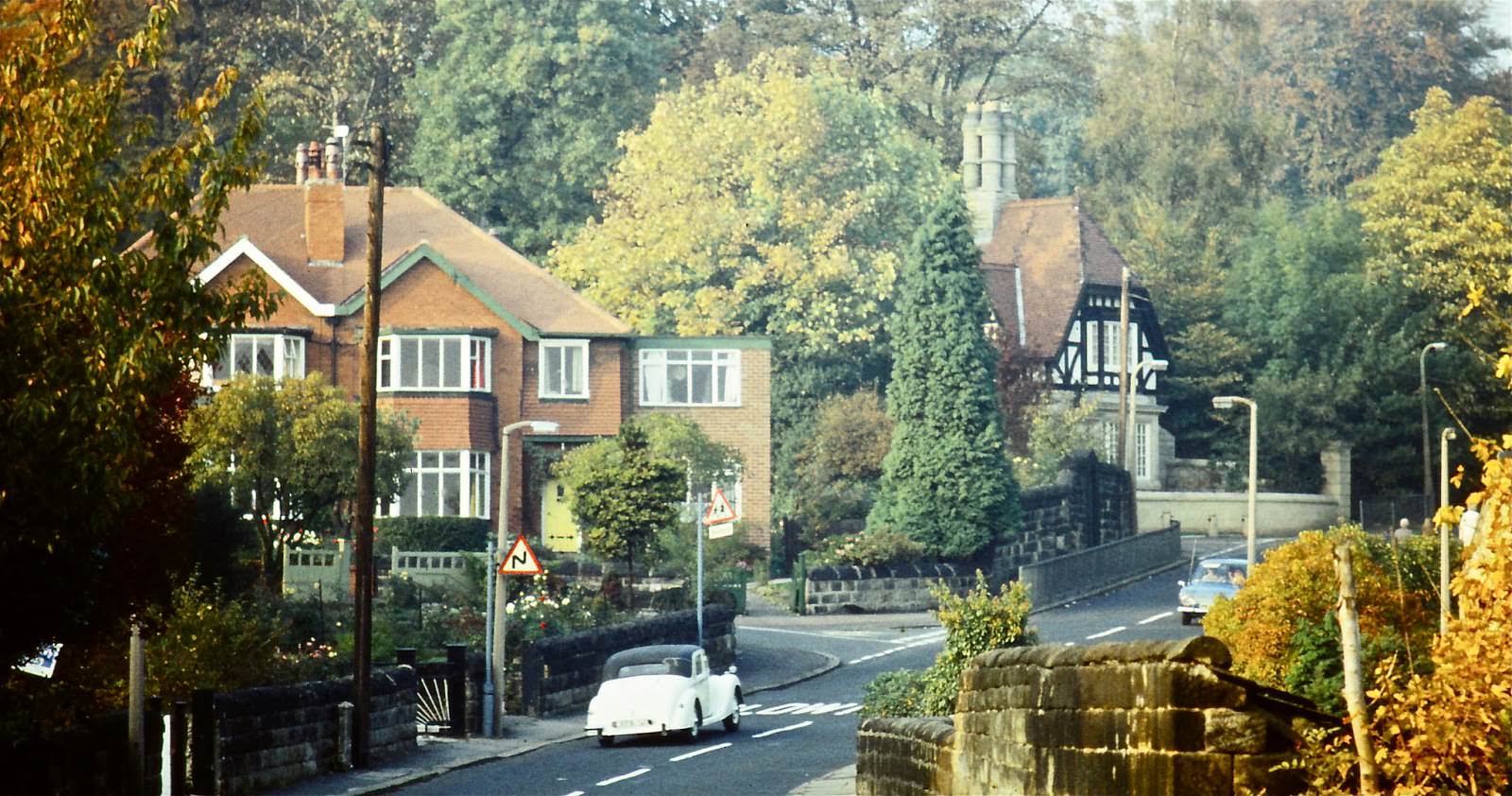 #40

Sunday Morning. Woodhouse Moor.
#41

City of Leeds and Carnegie hall of residence.
#42

Brudenell Road, looking towards the Royal Park pub.
#43

Snow? An upturned table and a dry grass slope are all you need.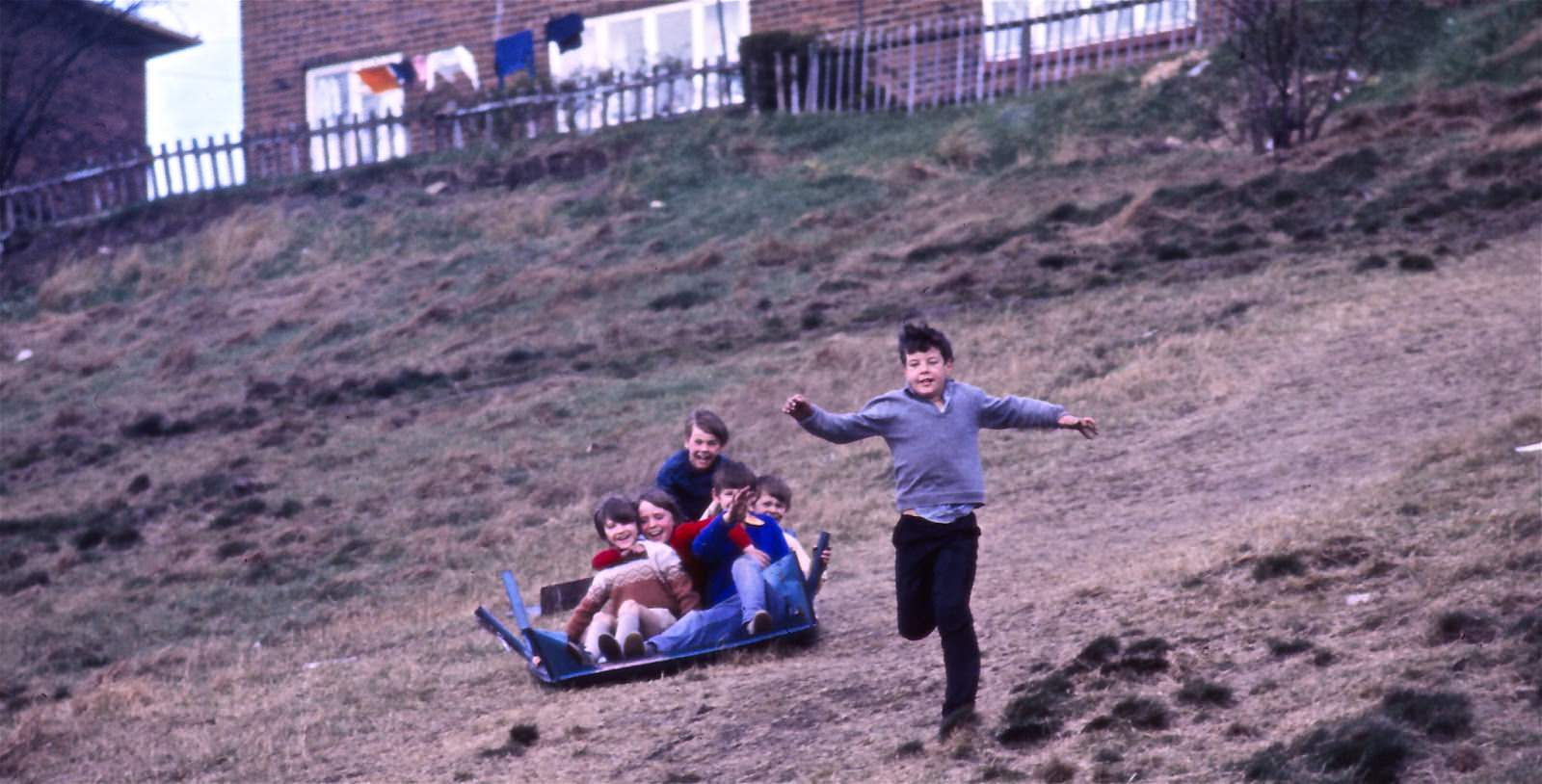 #44

Street play with what's available – Leeds 4 area.
#45

Sporting Arena. Definitely not Headingley – cricket at Roundhay Park.
#46

Top end of Vicar Lane. To your right – the ABC cinema. To your left – Tate of Leeds: Ford dealers – The 'NEW ESCORT' is 'now on show'.
#47

Department Stores – on your right: Debenhams. On your left: Lewis's – which was nothing to do with John Lewis.
#48

Moorland Road – waiting to make a call.
#49

Simple fun in the children's playground propelled by push power.
#51

Albion Place looking east towards Briggate.
#53

City of Leeds and Carnegie College – Main Building.
#54

Even the dog gets a turn at skipping.
#55

Temple Newsam. Whitsun 1975 – Rhododendron time.
#56

City Square. Exhibition Hall.
#58

Looking towards Kirkstall Road.
#59

In the foreground – Housing. In the background – Industry.
#62

Parkinson Building on Woodhouse Lane.
#64

Exact whereabouts forgotten – but the street sign [centre left] might say Rillbank Lane.
#65

Bank Holiday fishing in the Leeds-Liverpool Canal.
#66

Number 58 Circular ascending Belle Vue Road.
#67

Temple Newsam. Courtyard Cafe.
#69

Looking across Burley Road past the Fire Station to Yorkshire Chemicals.